When testing anchors, it is critical to follow the manufacturer's directions and guidelines in setting the anchor by using the recommended rode type, scope of the rode to the sea bed and depth of water.  Failure to follow the manufacturer's guidelines puts an anchor at a disadvantage. It is better for the consumer to evaluate an anchor's strengths when used correctly to determine if the anchor is suitable and best for their particular anchoring needs.
Two characteristics of an anchor, design and weight, determine how well that anchor will set in any seabed.  After launch,  the anchor descends to the seabed and begins the setting process.  90 percent of the world's navigable waters have three types of seabeds; sand, mud with varying degrees of thickness, and rocks.  Most anchors work well in sand and hard mud when set correctly.  So the challenge to boaters becomes anchoring in soft mud or less than soft mud.  When a boater has an anchor that works well in all of the bottom types, they are truly equipped to cruise happily and anchor safely wherever they choose to go.  A boater should travel to anchorages because he/she wants to be in that surrounding and not by the type of seabed.  The Super MAX anchor, because of it's design and weight, has been proven to set well in soft mud as indicated in the anchor test described below.  So why not have an anchor that sets well in 90 percent of all typical anchoring seabeds?
On June 26, 2003 off Gulfport, Mississippi a number of popular boating anchors were tested in a soft mud sea bottom. Soft mud bottoms cover vast areas of coastline in the United States, so it is important to determine which anchors do well in these less stable seabeds.  This anchor test is certified by the American Bureau of Shipping (A.B.S.).
(A.B.S. Report) – PDF format
No official mud bottom tests had been made in the years prior to this test.   This test included many new anchor types that have become available. The results provided by this test are very useful for cruising boat operators as well as work boat captains.
The anchors tested were:
15 pound aluminum SPADE anchor
17 pound prototype steel XYZ anchor
17 pound steel alloy DIGGER anchor
21 pound aluminum FORTRESS anchor
25 pound WEST MARINE Danforth style anchor
29.5 pound steel BARNACLE anchor
29.5 pound steel BULLWAGGA anchor
35 pound aluminum DELTA anchor
48 pound steel CQR anchor
47 pound steel BRUCE anchor
52 pound steel Super MAX Pivoting Arm anchor
All of the manufacturers of these anchors recommend them for boats between 33 and 38 feet in lenght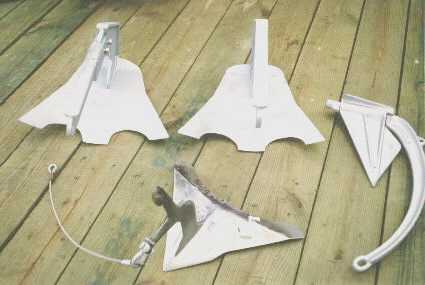 Clockwise: Super Max Pivoting Arm,  Super Max Rigid, Barnacle,and XYZ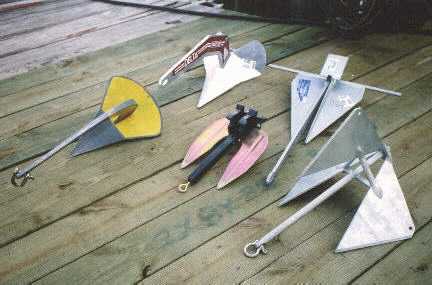 Clockwise: Delta, West Marine Danforth, Bullwagga, Digger, and Spade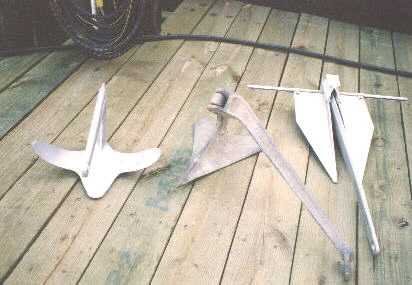 L to R: Bruce, CQR, and Fortress
The tugboat Commodore, one of the Gulfport Towing Company's fleet, was used as the test vessel.   The vessel was off shore at the time of the test representing actual anchoring conditions.  This tugboat has a 1200 horsepower Fairbanks-Morse diesel engine and a 72 inch propeller.  A Dillon dynamometer was used to measure the pull pressures on the rodes. Scopes were applied as per the manufacturers' recommendations as well as their recommendations regarding chain or nylon anchor rode.
Anchors were dropped from the stern of the Commodore and straight pulls were measured. The vessel's momentum from the wind was sufficient to set each anchor. Since the wind varied, differing setting pressures were seen.  Setting was determined when the boat came to a complete stop.  After setting, force from the engine was applied to determine the point when dragging occurred.  It was deemed unnecessary to do 90 degree offset pulls as the soft bottom would allow each anchor to turn to the new position effortlessly.
Anchor
Weight
Scope
Setting lbs
Dragging lbs.
Spade
16.5 lbs
6-1
N/A
130 lbs
XYZ
17 lbs
5-1
200 lbs
400 lbs
Digger
17 lbs
5-1
N/A
Not measurable
Fortress FX37
21 lbs
6-1
N/A
Not measurable
West Marine
Danforth
26 lbs
6-1
N/A
200 lbs
Barnacle
29.5 lbs
6-1
N/A
N/A
BullWagga
29.5 lbs
5-1
300 lbs
390 lbs
Delta
35 lbs
6-1
400 lbs
900 lbs due to obstruction
420 afterwards
CQR
48 lbs
6-1
N/A
575 lbs
Bruce
46.5 lbs
6-1
N/A
400 lbs
Super Max 17
Pivot Arm
52 lbs
6-1
570 lbs
700 lbs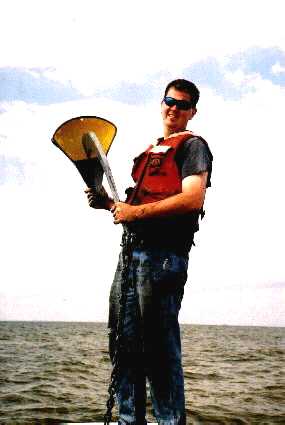 Preparing to Launch Spade Anchor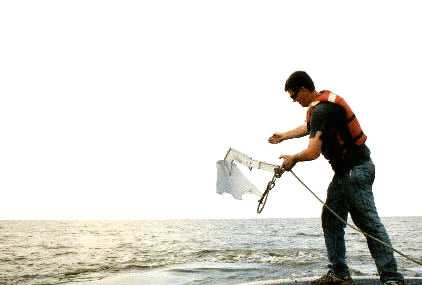 Launching Super MAX Anchor
The conclusions reached from this test were that only four anchors provided a set in this soft bottom:
Bullwagga
Delta
Super MAX
XYZ prototype
Only the Super MAX anchor provided security up to 700 pounds of pull, while the others dragged when the pressure reached 390 and 400 pounds.  The XYZ and the Super MAX anchors are deep penetration anchors by design.  It is believed that with time and constant pressure, both types would penetrate deeper and thus create added holding pressures. Since the Super MAX anchor has an adjustable arm that can be changed for differing types of bottom conditions, it appears to be the best anchor for all-around anchoring, since it has been proven in others' tests in sand, gravel and coral bottoms.